Officers and Committee Members
Committee Service
If you don't want to be a National Officer, but still want to help out – volunteer to be on a committee. Committee members help organize and run contests at the Annual Meeting, find entertainment for the socials, announce winners, and help the National Officers by coming up with ideas to the make the program better. Sign-up for committee volunteers is now open. Committee members will be appointed by the National Officers based on volunteer's preferences.
Officers
Officers are elected annually by participating SASES clubs at the ASA, SSSA, and CSSA Annual Meetings. They each serve a one-year term.
Being a National Officer is mostly a team effort. The officers meet every month by phone and talk about the SASES program. They accept new clubs into SASES, find and book keynote speakers for the Annual Meeting, determine the host school of the Spring Meeting, and talk about how the make SASES better overall. Other projects that the officers due during the year is mostly up to them. They can take on as much as they can handle, and the three National Advisors and Society staff is there to support them and assist them in any way possible.
View the links to the right for details on elections.
Each officer also has official duties specific to them that can be viewed here. In an average year, these mostly break down to these items below.
President
Organizes the monthly meeting

Sends a survey to get members' availability
Picks a time and invites committee
Adds items to the agenda

Presides over national meetings (Spring and Annual)
Vice President
Takes all the volunteers and puts them on committees based on preferences.
Communicates with all committees
Presides over National Meetings in President's absence
Corresponding Secretary
Posts to Facebook and Twitter
Submits stories to CSA News
Submits updates to Newsflash
Coordinates any SASES publications or newsletters
Recording Secretary
Set a generic agenda and share with committee before the meeting (enough time for everyone to add agenda items).
Send out minutes from each meeting.
Keep track of delegates at National Meetings when attendance or voting is needed
Member Relations
Email potential clubs general information
Present new club petitions at the business meeting, and inform clubs of approval
Send renewal form to clubs
If you still have questions about specific Officer positions – ask the current officer.
All Candidates are encouraged to submit a profile before the election to allow Delegates and other students to learn more about them before the election. Candidate profiles will be posted here with 24 hours of form submission.
2016 National Officers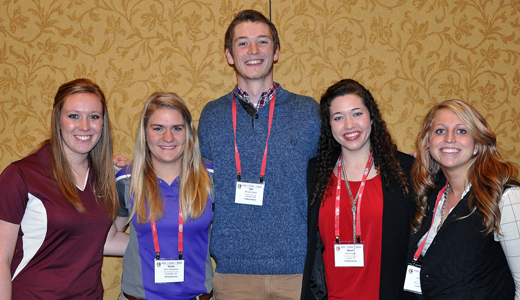 Left to Right: Amy Weinheimer:Recording Secretary, Keren Duerksen:Corresponding Secretary, Will Steffel:Vice President, Marah Walls:President, Rachel Garen:Membership Coordinator