Club Information
SASES is an affiliation of agronomy, crops, soils, plant science, or environmental science clubs and their undergraduate student members from colleges and universities throughout North America (primarily the United States). Student clubs choose to affiliate with SASES and petition SASES to become an affiliated chapter. There are no fees to affiliate with SASES, the only requirement is that chapter members become individual student members of ASA , CSSA, or SSSA.
SASES is composed of chapters located at colleges and universities that provide a curriculum in agronomy, crops, soils, and environmental sciences. A variety of programs and activities are offered on the local and national level for students to become professionally involved and to prepare for their future careers. We encourage you to meet our student leaders, explore our meetings and contests, and discover the many chapters that make our organization a success!
Spring (Regional) Meeting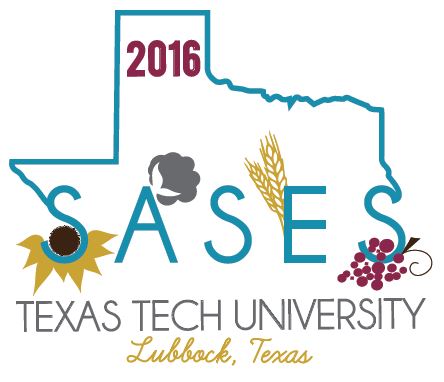 2016 Spring (Regional) Meeting will be held March 31 - April 2 in Lubbock, TX.
Host : Texas Tech Agronomy Club
All of the following information is still in draft and subject to change without notice:
Thursday, March 31:
Registration @ the Overton Hotel & Conference Center; Welcome reception and career fair @ McKenzie-Merket Alumni Center on Tech campus followed by dinner and keynote speaker. The career fair will be casual. There will be about 10-15 companies at the career fair and they are invited to eat with us afterward.
Friday, April 1:
Tours: Boxed breakfasts will be provided before departure. We advise students to wear comfortable clothes and anticipate lots of wind and should bring a light jacket. Weather in Lubbock is very unpredictable but should be relatively pleasant.
Tour #1: Texas A&M AgriLife Research & Extension Center (Lubbock, TX), Apple Country Orchards (Idalou, TX), Pioneer Corn Facility (Plainview, Texas), Fiber & Biopolymer Research Institute (Lubbock, TX)
Tour #2: Birdsong Peanut Shelling Facility (Levelland, TX), Lost Draw Winery & Vineyard (Levelland, TX), All-Tex Cotton Delinting Facility (Levelland, TX), Buster's Cotton Gin (Ropesville, TX)
Tour #3: Monsanto Breeding Megasite (Lubbock, TX), Lubbock Cotton Compress (Lubbock, TX), Chromatin Sorghum Facility (New Deal, Texas), American Wind Power Center (Lubbock, TX)
Tour #4: Bayer Trait Development Center & Greenhouses (Lubbock, TX), National Ranching Heritage Center (Lubbock, TX), Dow AgroSciences Corn Breeding Station (Ralls, TX), Texas Tech University Research Farm (New Deal, Texas)
Tour #5: Lubbock Feeders (Lubbock, TX), Back to Nature Compost (Lubbock, TX), USDA Research Laboratory (Lubbock, TX), Phytogen Cotton Breeding Station (Lubbock, TX)
Additional in-depth tours at the Bayer Museum of Agriculture that evening followed by keynote speaker (to be determined) and chuck-wagon style dinner.
Saturday, April 2:
Breakfast will be provided. Presidents meeting, National Officers meeting at Student Union Building on Tech campus. Breakout sessions throughout the afternoon at the Student Union Building. Students will be on their own for lunch.
Dinner and barn dance at Quaker Research Farm.
Any questions, comments, concerns, or suggestions should be directed to Emily Keeling, TTU Agronomy Club President, emily.keeling@ttu.edu.
HOSTING REGIONALS -
The bidding process is now closed for 2016 Regional Meeting.
Congratulations to Texas Tech, the 2016 Regional Host.
See the items below for more information.
New this year: For bidding schools that attend this year's Regional meeting, on Saturday March 14, bidders will have an opportunity to present their bid in person to the National Officer. For bidders that cannot make it to Madison, the same opportunity will be arranged via video conference.Presenters will have up to 5 minutes to present the most compelling parts of their bid and up to 10 minutes for Question and Answer.
New this year: Submit final proposals online.
Guidelines for Submitting a bid

Texas A&M's winning 2013 bid

Iowa State's winning 2012 bid

Thanks to University of Nebraska - Lincoln for hosting a fantastic Regional Meeting in 2014!