Nitrogen-fixing trees increase maize yield stability
September 17, 2012
A critical examination of an African "agroforestry" system, in which maize (corn) is grown with nitrogen-fixing trees, has yielded good news for resource-poor African farmers. Maize yields were more stable over time in an intercropped maize-tree system than when corn was grown alone and fertilized with inorganic nitrogen, according to a new study in the Sept.-Oct. 2012 issue of Agronomy Journal.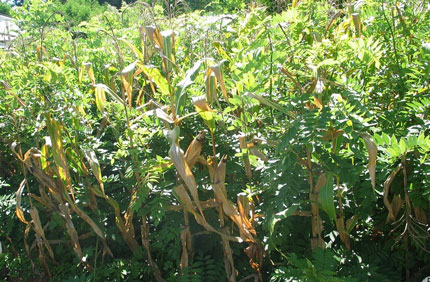 The findings are important to sub-Saharan Africa, says lead author, Gudeta Sileshi, of the World Agroforestry Centre's Chitedze Agricultural Research Station in Lilongwe, Malawi. Maize accounts for more than 50 percent of the cropped area and the calories consumed in many countries in the region, and the maize mixed-farming system covers greater than 10 percent of the land area.
But this farming system also experiences widespread land degradation and is prone to extreme weather events associated with climate change. Nitrogen (N) limitation, in particular, is widespread and severe, due to soil erosion and leaching losses, nutrient mining through crop harvest, and low use of external inputs, especially inorganic fertilizers.
As a result, maize yields are very low relative to the crop's biological potential and the risk of crop failure is high in rain-fed maize cropping.
Researchers have been evaluating options for integrating N-fixing legume trees in maize cropping systems, with the aim of mitigating land degradation, replenishing soil fertility, and improving yields. And more than two decades of research in southern Africa shows that N-fixing trees can increase the structural stability of soil, its water storage capacity and fertility, and maize yields.
However, the stability of yields has not been critically analyzed and compared with cropping systems that involve monoculture maize and use of inorganic fertilizer, Sileshi says. Instead, most studies assessing cereal-legume tree associations have been short-term in nature, making it difficult to identify reliable cropping systems (those that combine high levels of mean yield and yield stability), and address concerns about long-term stability and sustainability.
To address this knowledge gap, Sileshi and his collaborators sought to compare yield stability in three systems: maize intercropped with the N-fixing legume tree Gliricidia (Gliricidia sepium); continuously (12-13 years) cropped monoculture maize receiving inorganic fertilizer; and the de facto practice of resource-poor farmers who grow maize without any external input. Data was collected from three long-term field trials in southern Malawi (one site) and eastern Zambia (two sites), and various stability models were applied.
The researchers report that yields were more stable in the maize-Gliricidia intercropped system compared to monoculture maize receiving inorganic fertilizer, although average yields may be higher in the latter. What this indicates, they say , is that the high yields obtained with inorganic fertilizer aren't necessarily an indicator of sustained productivity, as they may also be associated with low stability.
The fact that maize yields remain more stable in maize associated with N-fixing trees is good news for resource-poor African farmers, and the findings also have implications for policy debates about agricultural development in Africa, Sileshi says.The continent's agricultural policies often emphasize intensification of inorganic fertilizer use, even though the potential of inorganic fertilizers to ameliorate the physical and biological degradation of poorly buffered soils is limited. Without addition of organic matter, in other words, the high yields obtained with inorganic fertilizer may not be sustained over the long-term in degraded soils.
What the current study suggests is that a better approach would be to boost maize yields by strategically combining small doses of inorganic fertilizer with N-fixing legume trees that also provide other ecosystem services.