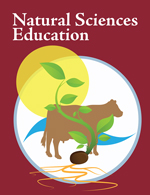 Featured Content

Harmony Park: A Decision Case on Gardening on a Brownfield Site
Mr. Holloway and his neighbors were excited to begin gardening on a vacant city lot in their neighborhood, which had once been residential interspersed with restaurants, shops, auto body shops, and gas stations…
View more

Natural Sciences Education is a cross-disciplinary journal on animal and natural sciences pedagogy.

American Society of Animal Science (ASAS) Members:
Subscribe as a member of ASAS.
Subscribe as a student member of ASAS.

Do you have a subscription through the ACSESS Digital Library?
If so, go to the Digital Library to see Natural Sciences Education.


Select an Archive Issue from the Index, 2006-present
Select individual issues from 2006 to the present.
Select individual issues from 1972 to 2005.
Search ASA-CSSA-SSSA journals.
Check Out Our Educational Books
Recently published books include:
Coolbean the Soybean, Know Soil Know Life, and Graduate Student's Backpack


Name Change
NSE, published by ASA with CSSA and SSSA as cooperators, is the new name for Journal of Natural Resources and Life Sciences Education.
The name change reflects the growing submissions from a wide range of scientists interested in the discipline of natural sciences, natural resources, and agriculture.

Submissions
NSE is a peer-reviewed international journal published online continuously during the year. Its articles are written by and for educators in extension, universities, industry, administration, and grades K–12. Discover teaching techniques, concepts, ideas, and more.
Submit your manuscript today!

Electronic Only
NSE is now online only, beginning with Volume 42 (2013). Look for improvements to the pdf version of articles, as well as an enhanced website and inclusion in the ACSESS Digital Library.

TOC Alerts
Stay up-to-date with the latest Tables of Contents for NSE studies. Sign up for Email Alerts now (see right hand column on this page).
C
lick Here
to manage your alerts. Please be sure you are logged in.