Applied Turfgrass Science | First Look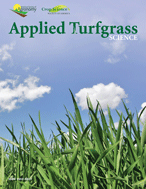 Articles are posted here immediately following acceptance to provide faster publication and better access to the newest research. These articles have not been professionally edited and do not appear as they will in the final journal issue. Finalized manuscripts will be posted on the Just Published page and in the yearly volumes of Applied Turfgrass Science.
Online ISSN: 1552-5821
Citation | Articles posted here may be cited by the doi. Ex. Johnson, D.M, D.W. Edgar, D.E. Karcher, M.D. Richardson, and John H. McCalla. 2014. Effect of petroleum diesel and biodiesel spills on turfgrass. Appl. Turfgrass Sci., doi: 10.2134/ATS-2013-0005-RS.

To view articles, you must have a current subscription to Applied Turfgrass Science.
Applied Turfgrass Research
Impact of Antimicrobial Compounds on Etiolation Caused by Xanthomonas translucens and Turf Quality of Creeping Bentgrass Putting Green Turf
Joseph A. Roberts, Michael D. Soika, and David F. Ritchie
doi: 10.2134/ATS-2014-0047-RS; Posted 24 Oct. 2014
Full Text

Applied Turfgrass Briefs