First Look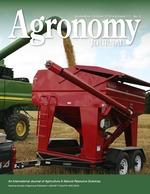 Articles are posted here immediately following acceptance to provide faster publication and better access to the newest research. These articles have not been professionally edited and do not appear as they will in the final journal issue. Finalized manuscripts will be compiled in the bimonthly print and online versions of Agronomy Journal.
Online ISSN: 1435-0645; Print ISSN: 0002-1962

Citation | Articles posted here may be cited by the doi. Ex. Turner, S.F., C.A. Benedict, H. Darby, L. Hoagland, P. Simonson, J.R. Sirrine, and K. Murphy. Challenges and Opportunities for Organic Hop Production in the United States. Agron. J., doi:10.2134/agronj2011.0131.

To view articles, you must have a current subscription to Agronomy Journal. Click here for subscription information.


Review & Interpretation

A Review of Sports Turf Research Techniques Related to Playability and Safety Standards
P. C. F. Aldahir* and J. S. McElroy
doi:10.2134/agronj13.0489; Published online 7 Mar. 2014
Full Text

Statistics Symposium
"Manuscripts Compiled from the ASA Symposium, "Statistical Concepts and Tools to Aid in Publishing Proper Research Conclusions"
ASA-CSSA-SSSA Annual Meetings, Cincinnati, OH; 23 Oct. 2012
Cosponsored by Agronomy Journal and the ASA Biometry and Statistical Computing Section

Analysis of Combined Experiments Revisited
Kenneth J. Moore* and Philip M. Dixon*
doi:10.2134/agronj13.0485; Published online 3 Mar. 2014
Full Text

Rethinking the Analysis of Non-Normal Data in Plant and Soil Science
Walter W. Stroup*
doi:10.2134/agronj2013.0342; Published online 31 Oct. 2013
Full Text

Fundamentals of Experimental Design: Guidelines for Designing Successful Experiments
Michael D. Casler*
doi:10.2134/agronj2013.0114; Published online 22 May 2013
Full Text

The Design and Analysis of Long-Term Rotation Experiments
Roger William Payne *
doi:10.2134/agronj2012.0411; Published online 24 May 2013
Full Text

Multiple Comparison Procedures - Cutting the Gordian Knot
Dave Saville*
doi:10.2134/agronj2012.0394; Published online 22 Jan. 2013
Full Text




Evaluation and Interpretation of Interactions
Jose Crossa,* Mateo Vargas, C. Mariano Cossani, Gregorio Alvarado, Juan Burgueño, Ky L. Mathews, and Matthew P. Reynolds
doi:10.2134/agronj2012.0491; Published online 5 Apr. 2013
Full Text


OPEN ACCESS

Nonlinear Regression Models and applications in Agricultural Research
Sotirios V Archontoulis and Fernando E Miguez*
doi:10.2134/agronj2012.0506; Published online 5 Apr. 2013
Full Text


OPEN ACCESS
Solar Corridor Symposium
Manuscripts Compiled from the ASA Symposium, "The Solar Corridor Concept"
ASA-CSSA-SSSA Annual Meetings, San Antonio, TX; 17 Oct. 2011
American Society of Agronomy, Agronomic Production Systems Section - Solar Corridor Community


Soil Quality and the Solar Corridor Crop System
Robert J. Kremer* and C. LeRoy Deichmant
doi:10.2134/agronj13.0508; Published online 3 Mar. 2014
Full Text


Row Arrangement, Phosphorus Fertility, and Hybrid Contributions to Managing Increased Plant Density of Maize
Jason W. Haegele, Ryan J. Becker, Adam S. Henninger, and Frederick E. Below*
doi:10.2134/agronj2013.0382; Published online 9 Dec. 2013
Full Text


OPEN ACCESS

Radiation Use Efficiency: Evaluation of Cropping and Management Systems
Jerry L. Hatfield*
doi:10.2134/agronj2013.0310; Published online 18 Oct. 2013
Full Text

Corn Yield Response to the Solar Corridor in Upstate Missouri
Kelly Nelson*
doi:10.2134/agronj2012.0326; Published online 18 Jan. 2013
Full Text

Forum
Agronomic Application of Genetic Resources

ACCase Herbicide Tolerance in Bermudagrass
Austin L. Grimshaw, Brian M. Schwartz,* Timothy L. Grey, Patrick E. McCullough, Paul L. Raymer, Theodore M. Webster, A.R. Kowalewski, Trent M. Tate, and Wayne A. Parrott
doi:10.2134/agronj13.0423; Published online 27 Jan. 2014
Full Text

Soil Tillage, Conservation & Management

Windblown Dust Potential from Oilseed Cropping Systems in the Pacific Northwest United States
Brenton Sharratt* and William F. Schillinger
doi:10.2134/agronj13.0384; Published online 5 Mar. 2014
Full Text

Agronomy, Soils & Environmental Quality

Evaluation of Yield-Based Drought Tolerance Indices for Screening Safflower Genotypes
Forouzan Bahrami, Ahmad Arzani,* and Vahid Karimi
doi:10.2134/agronj13.0387; Published online 7 Mar. 2014
Full Text




Nitrogen Management and Methane Emissions in Direct-Seeded Rice Systems
Cameron M. Pittelkow,* Yacov Assa, Martin Burger, Randall G. Mutters, Chris A. Greer, Luis A. Espino, James E. Hill, William R. Horwath, Chris van Kessel, and Bruce A. Linquist
doi:10.2134/agronj13.0491; Published online 7 Mar. 2014
Full Text




Optimizing Irrigation and Plant Density for Improved Cotton Yield and Fiber Quality
Lu Feng, Garrett Mathis, Glen Ritchie, Yinchun Han, Yabing Li, Guoping Wang, Xiaoyu Zhi, and Craig W. Bednarz*
doi:10.2134/agronj13.0503; Published online 6 Mar. 2014
Full Text


Wheat and Soil Response to Wood Fly Ash Application in Contaminated Soils
Pavla Ochecova,* Pavel Tlustos, and Jirina Szakova
doi:10.2134/agronj13.0363; Published online 5 Mar. 2014
Full Text




Corn, Cotton, and Peanut Response to Tillage and Subsurface Drip Irrigation in North Carolina
D. L. Jordan,* P. D. Johnson, G. L. Grabow, and T. Corbett
doi:10.2134/agronj13.0486; Published online 5 Mar. 2014
Full Text




Distribution and Accumulation of Arsenic in Rice Plants Grown in Arsenic-Rich Agricultural Soil
Mon-Lin Chou, Jiin-Shuh Jean,* Guo-Xin Sun, Zeng-Yei Hseu, Chwen-Ming Yang, Suvendu Das, and Ju-Hung Teng
doi:10.2134/agronj13.0497; Published online 12 Feb. 2014
Full Text




Soil Nitrogen and Forage Yields of Corn Grown with Clover or Grass Companion Crops and Manure
John H. Grabber,* William E. Jokela, and Joseph G. Lauer
doi:10.2134/agronj13.0466; Published online 12 Feb. 2014
Full Text


Relating Crop Productivity to Soil Microbial Properties in Acid Soil Treated with Cattle Manure
Newton Z. Lupwayi,* Mônica B. Benke, Xiying Hao, John T. O'Donovan, and George W. Clayton
doi:10.2134/agronj2013.0427; Published online 14 Jan. 2014
Full Text


Optimal Irrigation for Onion, Celery Productions and Spinach Seeds Germination in Histosols
Djamila Rekika, Jean Caron,* Guillaume Théroux Rancourt, Jonathan A. Lafond, Silvio J. Gumiere, Sylvie Jenni, and André Gosselin
doi:10.2134/agronj2013.0235; Published online 31 Dec. 2013
Full Text





Biofuels

Pest Interactions in Agronomic Systems
Crop Ecology & Physiology

Agronomic Response of Soybean Varieties to Plant Population in the Guinea Savannas of Nigeria
Alpha Y. Kamara,* Sylvester U. Ewansiha, Steve Boahen, and Abdullahi I. Tofa
doi:10.2134/agronj13.0435; Published online 6 Mar. 2014
Full Text


Camelina Growing Degree Hour and Base Temperature Requirements
B. L. Allen,* M. F. Vigil, and J. D. Jabro
doi:10.2134/agronj13.0469; Published online 27 Jan. 2014
Full Text


Simulating Cassava Growth and Yield under Potential Conditions in Southern Brazil
Luana Fernandes Gabriel, Nereu Augusto Streck,* Debora Regina Roberti, Zeferino Genésio Chielle, Lilian Osmari Uhlmann, Michel Rocha da Silva, and Stefanía Dalmolin da Silva
doi:10.2134/agronj2013.0187; Published online 31 Dec. 2013
Full Text

Biometry, Modeling & Statistics

Reproductive and Fiber Quality Responses of Upland Cotton to Moisture Deficiency
Suresh Lokhande and K. Raja Reddy*
doi:10.2134/agronj13.0537; Published online 7 Mar. 2014
Full Text





Evaluating APSIM Maize, Soil Water, Soil Nitrogen, Manure, and Soil Temperature Modules in the Midwestern United States
Sotirios V. Archontoulis,* Fernando E. Miguez, and Kenneth J. Moore
doi:10.2134/agronj2013.0421; Published online 14 Jan. 2014
Full Text

Climatology & Water Management

Diverse Responses of Winter Wheat Yield and Water Use to Climate Change and Variability over the Semiarid Loess Plateau in China
Liang He, James Cleverly, Chao Chen, Xiaoya Yang, Jun Li, Wenzhao Liu, and Qiang Yu*
doi:10.2134/agronj13.0321; Published online 5 Mar. 2014
Full Text

Organic Agriculture & Agroecology

Organic Cropping System Effects on Fiber Quality of Three Cotton Cultivars in Greece
Sotiria Patsiali, Panayiota Papastylianou, Ilias S. Travlos, and Dimitrios J. Bilalis*
doi:10.2134/agronj13.0553; Published online 6 Mar. 2014
Full Text

Crop Economics, Production & Management

Grazing Winter Rye Cover Crop in a Cotton No-Till System: Yield and Economics
H. H. Schomberg,* D. S. Fisher, D. W. Reeves, D. M. Endale, R. L. Raper, K. S. U. Jayaratne, G. R. Gamble, and M. B. Jenkins
doi:10.2134/agronj13.0434; Published online 6 Mar. 2014
Full Text


Winter Wheat Response to Planting Date under Dryland Conditions
Thandiwe Nleya* and John R. Rickertsen
doi:10.2134/agronj13.0417; Published online 27 Jan. 2014
Full Text

Soil Fertility & Crop Nutrition

Water and Nitrogen Management on Micronutrient Concentrations in Winter Wheat
Shaoxia Wang, Xiaohong Tian,* Meng Li, Yijun Ni, Jin Li, Hongyun Li, Shujuan Wang, Yanlong Chen, Chunhui Guo, Aiqing Zhao
doi:10.2134/agronj13.0354; Published online 6 Mar. 2014
Full Text


Potassium Mobilization and Transformation in Red Paddy Soil as Affected by Rice
Xiaokun Li,* Liping Zhan, Jianwei Lu, Zhiwen Liao, Jifu Li, Tao Ren, and Rihuan Cong
doi:10.2134/agronj13.0347; Published online 5 Mar. 2014
Full Text


Effects of Long-Term Fertilization on Soil Carbon and Nitrogen in Chinese Mollisols
Xiaoguang Jiao, Chongsheng Gao, Yueyu Sui,* Guohong Lü, and Dan Wei
doi:10.2134/agronj13.0233; Published online 3 Mar. 2014
Full Text


Chlorophyll Meter Calibrations for Chlorophyll Content Using Measured and Simulated Leaf Transmittances
E. Raymond Hunt, Jr.* and Craig S. T. Daughtry
doi:10.2134/agronj13.0322; Published online 27 Jan. 2014
Full Text

Notes & Unique Phenomena
Urban Agriculture