Agronomy Journal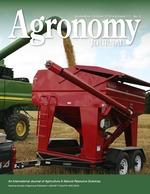 Featured Content

Statistical Concepts Symposium

A group of Open Access papers from the "Statistical Concepts and Tools to Aid in Publishing Proper Research Conclusions" symposium is published here. See also the "Special Sections" webpage. All of the software code that was presented in the individual articles is compiled into one file (available in the Introduction article, and on the Special Sections page). Read more.
About
Agronomy Journal
(AJ) is a peer-reviewed international journal of agriculture and natural resource sciences. AJ is published six times a year by the
American Society of Agronomy
, with articles relating to original research in soil science, crop science, agroclimatology and agronomic modeling, production agriculture, and software.
Submissions
Before you submit an article, be sure to read the Style Manual, the Instructions to Authors, and How to Write An Abstract

Be A Reviewer
Support your colleagues and your journals by reviewing manuscripts.

Special Sections, Open Access, Reviews...
Are you looking for articles from a Symposium,Special Topic, or Supplement? Review & Interpretation articles? Open Access articles?
Reprints
Do you want reprints of your published article?
Subscriptions


ACSESS Digital Library
TOC Alerts
Stay up to date with the latest AJ research by signing up for email Table of Contents Alerts.
Click Here
to manage your alerts. Please be sure you are logged in.
Online ISSN: 1435-0645 Print ISSN: 0002-1962