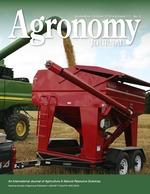 Featured Content

Enhanced Efficiency Fertilizers (group of 11 articles)

Recently there has been an increased interest in the use of "enhanced efficiency fertilizers" (EEFs) for their potential to reduce the environmental impact. The term EEF has been defined as "fertilizer products with characteristics that allow increased plant uptake and reduce the potential of nutrient losses to the environment when compared to an appropriate reference product"… Read more
Announcements

Do you have a subscription through the ACSESS Digital Library?
If so, go to the Digital Library to see Agronomy Journal.

Call for Nominations: ASA Editor-in-Chief
The ASA Editor-in-Chief volunteer position with the American Society of Agronomy will be open next year. The position is for a three-year term of service to begin 1 January 2015.
Read more.



JPA Is In The Digital Library
The Journal of Production Agriculture (JPA) is now available online in our Digital Library.
View JPA.


Electronic
Agronomy Journal (AJ) is now online only, beginning with Volume 105 (2013). Look for improvements to the pdf version of articles, as well as an enhanced website and inclusion in the ACSESS Digital Library.

Sign up for Agronomy Journal TOC Alerts
Stay up to date with the latest AJ research by signing up for email Table of Contents Alerts.
Log in
to your account to sign up.
About
A peer-reviewed international journal of agriculture and natural resource sciences, Agronomy Journal is published six times a year by the American Society of Agronomy, with articles relating to original research in soil science, crop science, agroclimatology and agronomic modeling, production agriculture, and software.
Online ISSN: 1435-0645
Celebrate Agronomy Day, March 25, 2014, by wearing this new t-shirt from ASA!