Weedy and Invasive Plant Species Community
The Weedy and Invasive Plant Species Community is an ASA Community within the Agronomic Production Systems Section.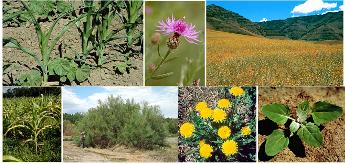 In agronomic and non-crop systems, weeds are the number one pest problem. Dollar losses associated with weedy and invasive plant species are in the billions. Weeds have invaded and threaten many ecosystems and are increasing in their importance for many state and federal programs. No other community in the ASA can reach a wider audience from the land owner to the crop consultant to the policy maker to the homeowner. This community has the potential to not only retain current members, but attract new members and fulfill the other purposes outlined by the society.
The interests of the Weedy and Invasive Plant Species community will be in understanding the ecology of weedy and invasive plants in managed ecosystems and the development of sustainable approaches to manage them. In particular, this community will have an interest in the basic principles of integrated weed management (IWM), including cultural, biological, chemical and mechanical techniques. The community will focus on IWM using an adaptive management framework in support of related interests, such as plant identification, spatiotemporal weed distribution patterns, new technology (e.g., biotech, geospatial tools, remote sensing), herbicide resistance and weed competition. The community interests will also cover regulatory issues associated with weed management and opportunities for restoration of native communities.
View Weedy and Invasive Plant Species Community Leadership Roster