Sensor-Based Nutrient Management Community
The Sensor-Based Nutrient Management Community is an ASA Community within the Agronomic Production Systems Section.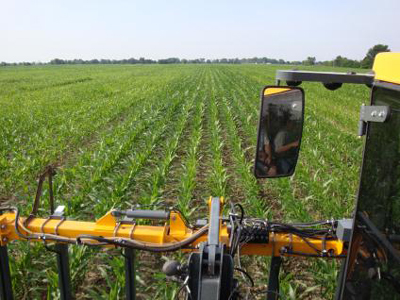 Scientists, graduate students, and industry representatives have been meeting at various locations in the U.S. for the past eight years to exchange experiences related to the use of crop canopy sensors to help make better-informed nitrogen management decisions. Please be aware of two upcoming events that will include sensors that are used to make nutrient management decisions.
***The InfoAg Conference returns to the Union Station in St. Louis. Make plans to attend August 2-4, 2016. For more than 20 years, InfoAg has been the leading event in precision agriculture. In 2016, InfoAg and ICPA will be colocated, providing additional educational and networking opportunities for everyone interested in the pursuit of precision agriculture.***
***14th Annual International Nitrogen Use Efficiency Conference (also known as the Sensor-Based NUE meeting) will take place in Boise, ID, August 8 - 10, 2016. This year's meeting is hosted by Cropping Systems Agronomy team, University of Idaho, Parma Research & Extension Center.
For more information on 2016 meeting, please contact: Olga Walsh, Cropping Systems Extension Specialist, University of Idaho, Southwest Research and Extension Center, 29603 U of I Lane, Parma, ID 83660, Phone: (208)722-6701 (ext. 218), Fax: (208)722-6701; email: owalsh@uidaho.edu)
First Annual Marvin Stone Memorial Poster Competition:
Graduate students are encouraged to bring research posters for display (4' x 4') and there will be a poster competition with prizes!
$500 First Place
$300 Second Place
$200 Third Place
***
BECOME SPONSOR FOR NUE MEETING
***
This group began meeting together in 1996 (Nebraska-Oklahoma). This was expanded to include Virginia Tech and CIMMYT-Mexico in 1998. By 2003, this group included most mid-west Universities in the corn belt, and has since met every year at different institutions. Participants have included individuals from Canada, Argentina, Mexico, Australia, Germany, and Brazil. In 2010 the group will again meet in Stillwater, OK. Originally designed as a "workshop," discussions and presentations were built around sensor based methodologies that could increase nitrogen use efficiency in cereal production systems. Both engineering and agronomic problems continue to be addressed by this group that hopes to deliver "by-plant" N management. For more information on previous years' meeting - please go to Oklahoma State University's NUE meeting page. ***
View Sensor-Based Nutrient Management Community Leadership Roster