Professional Applied Agronomists Community
The Professional Applied Agronomists Community is an ASA Community within the Agronomic Production Systems Section.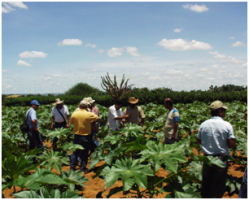 Applied agronomists make many of the management decisions and solve problems associated with the production of crops and forages to produce food, feed, fiber and fuel while conserving the natural resources required to produce them. This community will supply development needs and professional interaction for professional applied agronomists.
Professional Applied Agronomists integrate soil, crop and agronomic sciences with science based pest management to create efficient, productive and environmentally sustainable systems for the production of crops and forages. Their interests include the identification and enhancement of the efficiency of management inputs for crop and forage production including nutrient management; conservation of water and soil resources; efficient tillage systems, the identification and selection of adapted crop and forage cultivars; appropriate planting date, rate, and row configuration; efficient pest management inputs and the best management of growth regulators, harvest aids and other practices for commercial fields and experimental trials. Applied professional agronomists are consultants and advisers who discover and incorporate new technologies into crop and forage production systems.