By-product Gypsum Uses in Agriculture Community
The By-Product Gypsum Uses in Agriculture Community is an ASA Community within the Environmental Quality Section.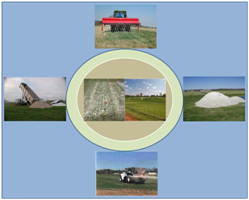 There is a paucity of information about beneficial uses of FGD gypsum on agricultural land. This community will provide a forum to share research ideas and results on FGD gypsum uses in agricultural systems.
The use of flue gas desulfurization (FGD) scrubbers to remove sulfur from the flue gas of coal-burning power plants for electricity production yields gypsum as a byproduct of the scrubber process. Presently, FGD gypsum is used primarily by the wallboard and cement industries. However, installation of FGD scrubbers is expected to increase significantly in response to new and existing air pollution regulations, with a concomitant increase in FGD gypsum. The current markets are not expected to be able to utilize all of the FGD gypsum produced. The beneficial uses of gypsum on agricultural land should provide an additional market for FGD gypsum, which would result in operation and maintenance cost savings and reduce on-site storage. Agricultural soils could potentially benefit from the addition of gypsum. For instance, gypsum can be used as a nutrient source for crops; a soil conditioner to improve soil physical properties, and water infiltration and storage; to remediate sodic soils, and to reduce nutrient and sediment movement to surface water, among other uses. However, most of the previous research on gypsum use has been on mined gypsum. There is a paucity of information about the use of FGD gypsum on agricultural land. Research is needed to access the environmental and plant productive effects of FGD gypsum application to soil.