Careers
Grow Your Future with a Career in Agronomy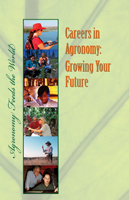 A career in agronomy will keep you in the center of efforts to increase the global supply of high-qualty food, feed, fiber, fuel, and pharmaceuticals while protecting and preserving the environment.
You will use your natural curiousity and enthusiasm for science to help solve some of the toughest problems facing humanity: safe and abundant food production.
Visit our Career Center website for more Career Tools and information.
Be sure to participate in our Career Center and Career Fair at the 2018 ASA, CSSA Annual Meeting, November 4-7, Baltimore, MD.
Agronomy career paths include:
Agribusiness
Education
Extension
Government
Urban Agronomists