Agronomy Journal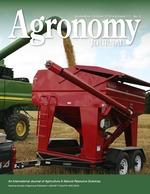 Featured Content

Biomass Accumulation, Marketable Yield, and Quality of Atlantic Potato in Response to Nitrogen

Potato is a staple crop worldwide, ranking fourth after maize, rice, and wheat, with the total world production being 340 million Mg. The objective of this study was to determine the effect of N fertilizer rate and application timing strategy on biomass accumulation, marketable yield, and tuber quality of chipping potato cultivar Atlantic produced in northeastern Florida. Read more.
NEW: Publications URL changing July 1 to view Agronomy Journal
We are pleased to announce that as of 1 July 2015, all journal content will be available through a single URL, dl.sciencesocieties.org. This move will continue to allow users to access their individual subscriptions as well as offer complete search capabilities but also alleviate confusion in access points. The move to a single URL will change the way you search, find, and view content by broadening your options while still allowing you to identify and separate information.
About
Agronomy Journal
(AJ) is a peer-reviewed international journal of agriculture and natural resource sciences. AJ is published six times a year by the
American Society of Agronomy
, with articles relating to original research in soil science, crop science, agroclimatology and agronomic modeling, production agriculture, and software.
Submissions
Before you submit an article, be sure to read the Style Manual, the Instructions to Authors, and How to Write An Abstract

Be A Reviewer
Support your colleagues and your journals by reviewing manuscripts.

Special Sections, Open Access, Reviews...
Are you looking for articles from a Symposium,Special Topic, or Supplement? Review & Interpretation articles? Open Access articles?
Reprints
Do you want reprints of your published article?
Subscriptions


ACSESS Digital Library
TOC Alerts
Stay up to date with the latest AJ research by signing up for email Table of Contents Alerts.
Click Here
to manage your alerts. Please be sure you are logged in.
Online ISSN: 1435-0645 Print ISSN: 0002-1962